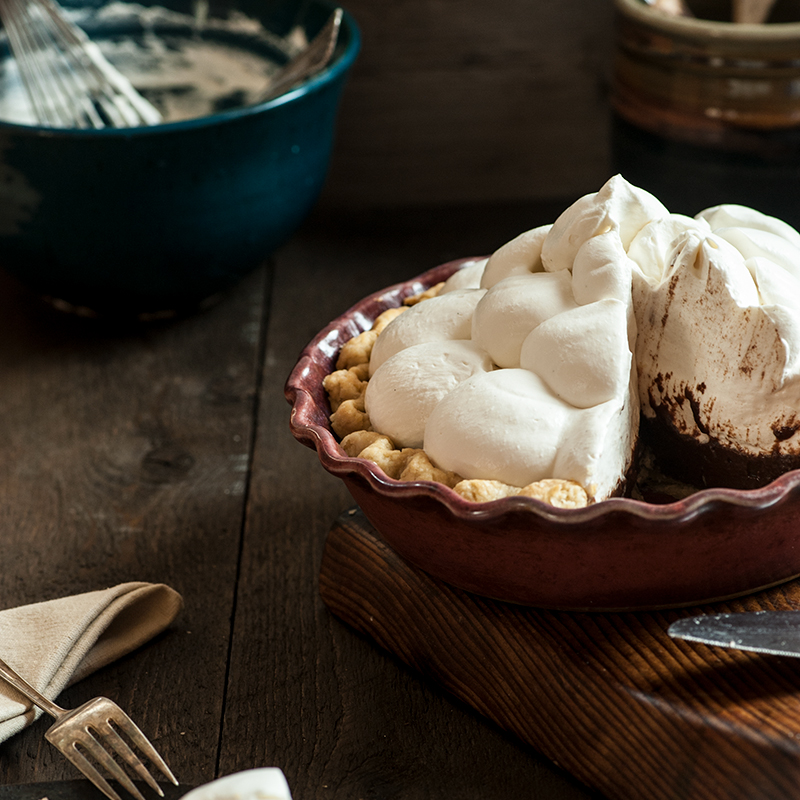 *Makes one 9-inch single-crust pie
Recipe Ingredients
½ recipe Simple Pie Crust
1 cup organic cane sugar
⅓ cup cornstarch
½ teaspoon salt
3 cups goat's milk
¼ cup strong brewed coffee
¾ cup semisweet chocolate chips
6 tablespoons unsweetened cocoa powder
4 egg yolks
1½ teaspoons vanilla extract
1 pint organic heavy cream
1 tablespoon maple syrup
Cooking Instructions
Preheat the oven to 350ºF.
Roll out the pie dough and place it in a 9-inch pie pan. With the tines of a fork, prick the bottom of the dough to prevent it from bubbling (this is called docking the dough). Bake the pie shell for about 20 minutes, or until light golden brown. Set on a wire rack to cool.
Combine the sugar, cornstarch, and salt in a medium saucepan. Gradually whisk in the milk and coffee until smooth. Place over medium heat and bring to a simmer, stirring continuously. Whisk in the chocolate chips and cocoa powder and simmer, whisking continuously, for 1 minute, until the chocolate has melted and the mixture has thickened. Remove from the heat.
Place the egg yolks in a medium bowl and slowly pour in half the warm chocolate mixture, stirring continuously. Whisk the egg yolk mixture back into the saucepan. Simmer the filling mixture stirring continuously and scraping the bottom of the pan to prevent scorching, for 1 minute. Remove from the heat and stir in the vanilla.
Pour the filling into the baked pie shell and cover with plastic wrap, pressing it directly against the surface of the filling. This will prevent a skin from forming while it cools. Refrigerate for at least 4 hours.
To serve, place the heavy cream in a large bowl. Using a whisk or handheld mixer, whip until soft peaks form. Add the maple syrup and continue to whip until the cream is fairly stiff. Remove the plastic from the pie and top with the whipped cream. Refrigerate until ready to serve.
**This recipe is taken from: Homestead Kitchen: Stories and Recipes from Our Hearth to Yours. Pam Krauss Books / Avery An imprint of Penguin Publishing Group. Copyright © 2016 by Eivin Kilcher and Eve Kilcher. Photography by Brian Grobleski of Mountainchild Imageworks.