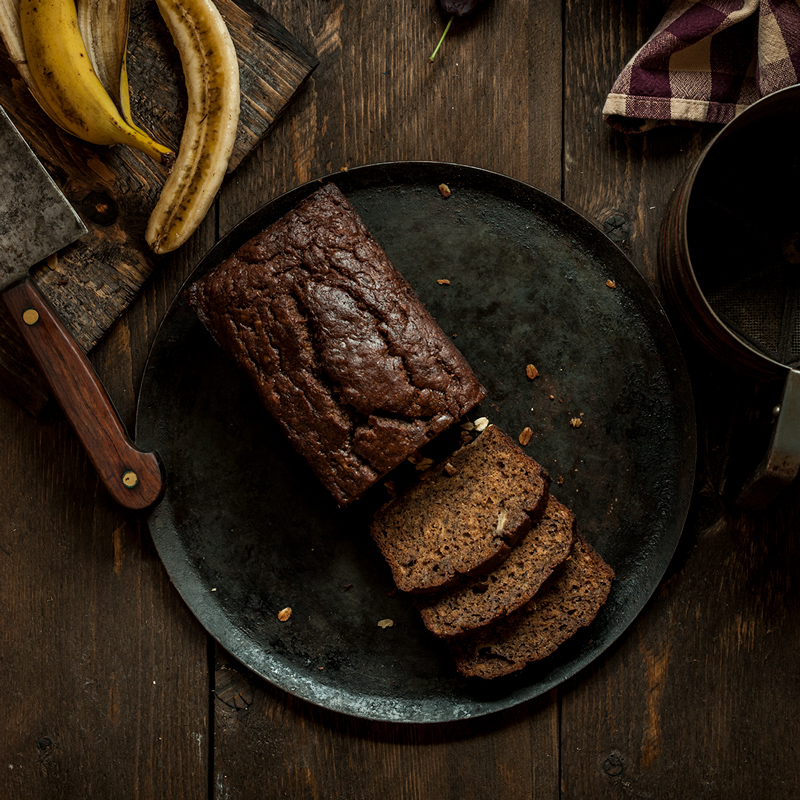 Recipe Ingredients
8 slightly overripe bananas
½ cup packed dark brown sugar
¼ cup unsulfured molasses
2 large eggs
2 teaspoons vanilla extract
2 teaspoons baking soda
1½ teaspoons salt
1 tablespoon ground cinnamon
2 teaspoons ground ginger
1 teaspoon ground nutmeg
1 teaspoon ground nutmeg
½ teaspoon ground cloves
3 cups organic whole wheat or all-purpose unbleached white flour
⅔ cup melted butter or grapeseed or vegetable oil, plus more for greasing the pan
Cooking Instructions
Preheat the oven to 350°F. Generously grease three 8 x 4-inch loaf pans.
Mash the bananas in a large bowl until somewhat smooth; a few small lumps are okay. Add the butter, brown sugar, molasses, eggs, and vanilla and stir together until well combined.
Add the flour to the bowl but do not mix it in. Sift the baking soda over the flour, then add salt, cinnamon, ginger, nutmeg, and cloves. Gently fold the dry ingredients into the banana mixture.
Fill the prepared pans two-thirds to three-quarters full with the batter. Bake for 45 minutes, or until a knife inserted into the center of a loaf comes out clean.
RECIPE NOTE: To create a little tang and excitement for the taste buds, add 1 cup of blueberries to this recipe. If you would like to save one or more loaves for a later date, they can be placed in a freezer bag and frozen for up to 1 month.
**This recipe is taken from: Homestead Kitchen: Stories and Recipes from Our Hearth to Yours. Pam Krauss Books / Avery An imprint of Penguin Publishing Group. Copyright © 2016 by Eivin Kilcher and Eve Kilcher. Photography by Brian Grobleski of Mountainchild Imageworks.