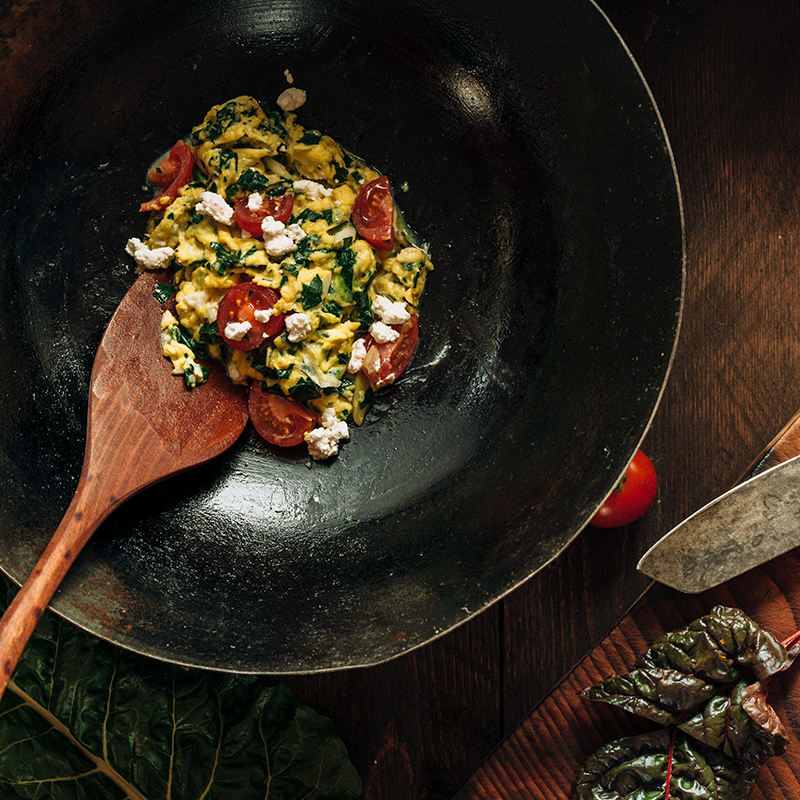 Recipe Ingredients
1 tablespoon grapeseed oil
½ cup coarsely chopped scallions
2 garlic cloves, minced
8 large eggs, lightly beaten
½ cup halved cherry tomatoes
Salt and black pepper
½ cup crumbled chèvre (soft goat cheese)
1 cup chopped broccoli florets or other hearty vegetable, such as mushrooms, zucchini, or cauliflower 1 cup finely chopped chard or other hearty leafy green, such as spinach, collards, or kale
Cooking Instructions
Heat the oil over medium heat in a cast-iron skillet. Add the scallions, garlic, and broccoli and sauté until soft, about 7 minutes. Mix in the chard and cook until lightly wilted, about 1 minute.
Pour the eggs over the vegetables. Cook, stirring frequently, for about 5 minutes. When the eggs are almost finished cooking, gently fold in the tomatoes. Season with salt and pepper.
Spoon onto individual plates and crumble the chèvre over the top.
RECIPE NOTE: The quantity of this recipe is suitable for a small family (or two hungry homesteaders) but it can easily be halved to serve one or two.
**This recipe is taken from: Homestead Kitchen: Stories and Recipes from Our Hearth to Yours. Pam Krauss Books / Avery An imprint of Penguin Publishing Group. Copyright © 2016 by Eivin Kilcher and Eve Kilcher. Photography by Brian Grobleski of Mountainchild Imageworks.